January 16th, 2010
integrated twitter-like on-site updates with automatic updates to twitter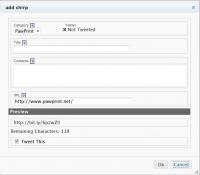 The main chirp form
PawPrint is pleased to release the new chirp module, an on-site twitter-like short update system that is integrated into the XDe and accepts pre-loading from other modules while providing automatic updates to twitter and soon other social bookmarking sites.
This concept behind
chirp
is simple. With all the hype about social bookmarking sites we found far too many people were throwing all their limited time being keeping these other web sites updated and allowing their own site to suffer as a result. Chirp not only solves this but making the social networking site updates for you, it also provides an easy avenue for updates by automatically creating the update information from existing module content.
For larger organizations the fact that they can now allow multiplt users to update twitter without ever needing to provide each of these people twitter credentials is a significant benefit. They not retain total control over multiple twitter accounts and all the while they are also updating their own web site with relevant real time information.
Key Features:
Integrated with News and Events modules
Automatic URL shortening via
tinyurl
or
bit.ly
Automatic twitter updates
Allows longer updates on-site while ensuring twitter character limits
Allows multiple categories and thereby multiple twitter accounts
Many site users can all tweet without the need to provide social site credentials
The chirp module is included in the XDe Core as a included module and therefore is available free to all existing customers.
To see chirp in action you can visit the
PawPrint chirp stream
---