June 23rd, 2006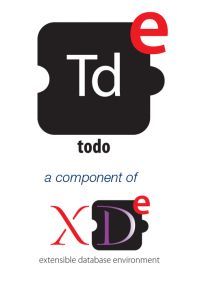 PawPrint launches ToDo Task Manager module - a component of the XDe system. Designed to assist in tracking progress and time via the web - ideal or workgroups and project teams.
The modules allows catagorized tasks to be tracked on-line through various stages of task completion. Tasks can be assigned to individuals or left open for users to accept on their own. The system provides an on-line time tracking component that records time spend on-task and a running history for each task - easily convertable into billable time for customer related tasks.
The task manage sends notification emails to the task owner, assigned user and (optionally) a site administrator at various stages of the task´s lifecycle.
As with all XDe Modules the system runs within the base XDe security system providing a single login access for users.
Another Module PawPrint has created simply because we needed it and must assume that others need it too! All our project time tracking and tasks management is now conducted through this module, allowing our various team members, spread across N. America, to manage and report their time using a simple web-based system.
PawPrint is currently working to investigate the posibility of exporting tracked time into Quickbooks Format for direct billing to customers.
New or existing customers interested in the ToDo Module should
contact PawPrint.net
for more information
---