August 21st, 2005
Sechelt BC, Canada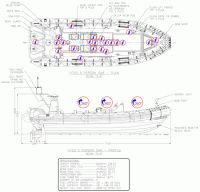 PawPrint Has launched a new interactive tour of the latest Coast Guard Auxiliary Fast Responce Craft (FRC) using a combination of interactive virtual tours, still photography in a web based presentation.
The project was in the works for some time - but had been put on hold until the new series of rescue vessel became available. VirtualFRC features the Zodiac Hurricane 753 - and undated version of the tried and tested 733 used throughout the world as the standard in rescue vessels.
Visit VirtualFRC
http://www.ccga12.org/virtual-frc/
and learn more about what keeps our rescue crews afloat.
---