June 18th, 2011
Latest in our Saturday Software Review series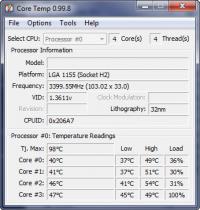 Itīs good, especially in summer to keep tabs on just how hot your system is running. Any issue that causes your system temperature to climb too high can be a likely cause of crashes and/or system slow downs - even, in extreme cases, permanent damage. Core temp makes that easy and unobtrusive.
Platform
: Windows
Cost
: Freeware
Summary
: A compact, no fuss, small footprint program to monitor CPU temperature..
This tiny little app comes with a lot of features but wonīt consume all your resources to run. I leave it sitting in my system trey all the time, making it easy to tell, at a glance, of there is any temperature problems.
Generally if the temperature is creeping anywhere about 60C then something is amiss, either a fan has stopped or the case is insufficiently cooled. In any case, something that should be attended to. Core Temp even helps make this visual with a colour coding that turns the trey temperature from green to yellow to red based on how hot things get.
Core temp also integrates both with itīs own gadget and the All CPU Meter sidebar gadget to provide a multi-core headīs up display of current status.
Regardless how you choose to use Core Temp, itīs a great addition to your system to help ensure things keep running smoothly.
---