March 24th, 2011
Domain Registration lookalike Invoice email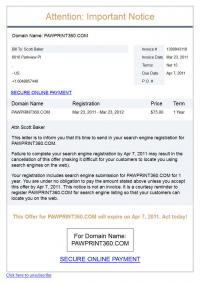 Screenshot of the email message
We are all plagued by email scams constantly but sadly many still fall prey to their tactics. The last received here is a new tactic in the domain registration type of scam and this notice will hopefully save you the trouble of wasting $75 and possibly much more trouble.
Fake invoices for domain registration abound but in the past these have typically arrived via postal mail. The most susceptible to such scams are organizations where mail is opened and dealt with by someone other then the person who actually registered the domain and thus, may have no idea who the legitimate registrar is. It is for precisely that reason that we crafted the

Domain Registration Hell and How To Avoid It
article; warning that no reputable registrar ever deals via postal mail amongst other things.
Sadly it seems īthe bad guysī are now also sending fairly convincing looking emails as well. The one pictured was received by our office this morning and was crafted well enough that we thought it best to call attention to it as being something very likely to trick people. Looking closely at the email you can see they already have a lot of information correctly recorded (everything there is in the domain registration record - and therefore publicly accessible) Name, Phone Number, Address (although they got the country wrong which is one warning sign)
How to spot the scam?
letīs look at the warning signs and red flags:
First and foremost there is no mention of any company here. We know all our domains are registered with domainsatcost.ca (always know who your registrar is) this is the fastest way to spot these scams.
The message comes from the email "jinadeaton at whchcar dot com" (a completely unknown personal address) no reputable company would send email like this. Incidentally the "online payment" links point to the domain registrationdom.com which is just a redirect to
http://iglobalmerchantservices.com/
a third party online payment provider (something like pay pal) so again, no indication is given where the money will actually go. Any reputable company would direct you to their web site.
The registration/expiration dates have no correlation to the actual registration dates for this domain (in fact it expires Feb 2nd 2012)
Another big huge red flag is the cost $75/ year! domain registrations cost at most $15-20 / year.
Finally - did you spot what you were actually being "sold" with the email? Itīs not even suggesting that it is a domain registration if you actually read the message. They are selling "search engine registration" which, doesnīt even exist! Creative wording abounds when you read carefully "Cancellation of this
offer
" and "
itīs time
to send in" as if it is something you have been doing for ages. Both phrases designed to play off the way us lazy humans just skim read nowadays.
It saddens us that these type of underhanded tactics still manage to trick people out of their hard earned money but given how fast the world moves and the difficulty we all face in keeping pace with it, itīs not really much of a surprise. We truly hope that by identifying these types of scams and reminding you to always keep close track of your online providers you will not be one of the unlucky ones.
---