February 11th, 2011
www.secheltminorsoftball.ca gets a new look donated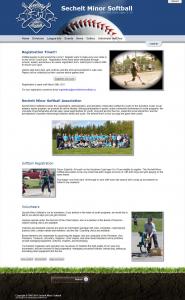 the new look for secheltminorsoftball.ca
PawPrint.net has donated a web site to Sechelt Minor Softball for several years now as a small way to give back to the community. The site was starting to show itīs age and we wanted to give it a new look and some added features.
Using some simple and generic stock photography we updated the site and itīs back-end code giving it a fresh new look that is easy to navigation and faster to load then before. The new site will perform well on mobile devices and allows links to social media sites as soon as the club is ready for that.
Thanks to the XDe CMS the new site was launched very quickly and the club didnīt need to change any of their content - the "template" portion and style sheets being the only aspects that were updated.
---