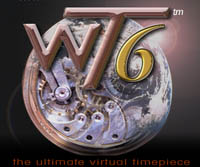 WARNING:
This package contains UNSUPPORTED software - it may be incomplete in some areas and is presented AS-IS for informational purposes only. This package can be installed in addition to the stable 5.5 release and run separately if desired.
Want to help?
Consider making a donation to support continued development... however,
- WorldTime is and will remain free -

The second Beta of WorldTime 6 is finally ready for public release. Please refer to the changes & additions in the release notes, then you may understand, in part, why it has taken so long to come to fruition.
Beta Download Link(s)
Known Issues
Location Data Updates have not been tested
The User Manual is incomplete
WorldTime 5.5 settings are not automatically transferred to WT6 format
The new location manager (a separate application for adding/editing locations) is incomplete
Regardless of these known issues - we hope that this release is of interest to many and will enhance their experience. Once any bugs have been stamped out, and the current known issues have been sorted out, a full final release will be made available.
The WorldTime Team