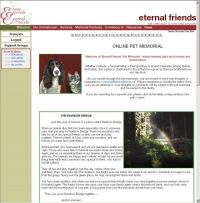 Category: Web Design
June 21st, 2004
This bi-lingual web site for a Quebec based pet crematorium was a special challenge, because the content management module needed to support a completely bi-lingual format. The site proprietor is still adding content but the foundation is working flawlessly.

"When I tell people Iīm adding the content myself - they ask how I learned how to do it" said owner Jocelyne Monette, "but I always tell them, you donīt need to learn anything - itīs so easy!"

The site uses a cookie to story the userīs language preference and changes the entire navigation to match that preference. Because of the forums and news there are a few areas that stick to a single language for navigation, but users can always post their content in either French or English.