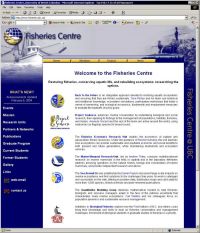 Category: Web Design
April 15th, 2002
The Fisheries Center at UBC had a problem: an old website full of content but desperately in need of better navigation, a new look, and better standards compliance.

PawPrint.net provided a complete site re-design,
content transfer and accessibility update as well as improving the site´s overall look and feel, PawPrint.net also significantly bolstered the site´s search engine placement.

The new site was then turned over to their in-house student based staff for content updates, who picked up the PawPrint code without incident and have been maintaining the site ever since.