July 13th, 2009
From the software to have category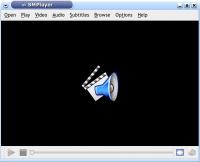 Screeshot of SMPlayer´s Mini Gui
I though it might help others to provide a few links and micro-reviews of software we really like and use all the time - this is the first in that series featuring SM Player a free media player for several operating systems that, in our opinion, is simply the best one going...
There are certainly a lot of options out there for media players and almost all operating systems have one or more built-in to choose from, but we find the many of these are only able to play specific video formats, or are huge and clunky, or take forever to load, or just crash all the time.
When we went looking for a better alternative we started with several ´desired´ features. First and foremost we wanted it to work. That meant playing almost anything including DVDs, computer files, and streaming video and audio without crashing. We preferred something that was small, and didn´t want to have to chop our a leg to purchase something either.
In SM Player we found something that did all we wanted and some...
There are several reasons why we like it:
It Plays almost anything
It´s small
It loads quickly
It has some great features: On-the-fly video equalization, +/- 10 sec, 1min, 10min positioning to name two favorites
It´s free
Basically with all this, it´s all we ever use to play videos, both on a workstation after doing trans-coding tests and for client video previews as well as just at home to watch on our projection screen.
To grab your free copy visit: the
SM Player Source Forge Page
- we expect you won´t be disappointed.
---