October 10th, 2012
XDe update brings logging and navigation enhanacements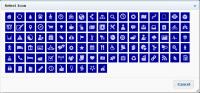 New XDe Navigation Icon Selection
Headlining the latest XDe updates are new navigation icons and a series of enhancements to the audit trail. The latest roll-out, as usual, also includes various bug fixes and a slew of optimizations that will improve site speed and accessibility.
When editing navigation items all XDe sites now have a set of icons that may be included along with or instead of the text for the navigation item. You can browse the icons in the Style tab of the navigation item. Most sites should be able to use the icons, available in 3 different sizes, without any adjustments. The icons can be modified using the styles of the site (or completely replaces with a custom set) however for help or advanced customization feel free to contact PawPrint for assistance.
The latest update also includes extensive revisions to the audit logging for all XDe sites. Many sites logs were filling with warning notices for various insignificant items and this was causing important audit trail items to fall out of the log too quickly. The new revision maintains a separate table for errors and warnings compared to the audit messages. This should both allow for much greater retention of auditing messages as well as speeding up the audit log.
As is becoming the norm: this latest update also includes a slew of code revisions and enhancements that speed the entire system, reducing memory use and fixing various bugs.
---