March 1st, 2011
New web site launced for a BC classic car club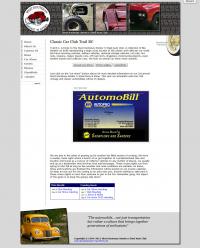 With little money and a need for a comprehensive web site that would suite a small organization the West Kootenay Smoke n Steel Car Club turned to PawPrint for a site that would fit their needs and budget.
From their new site "Trail B.C. is home to the West Kootenay Smoke ´n Steel Auto Club. A collection of like minded car buffs representing a large cross section of the classic and collector car world."
The site used an existing design that PawPrint had created some years ago for a different car club, but with updated coding and some nicer elements. That combined with all the new features in the XDe has resulted in a very practical site that looks great for an extremely modest cost. Because of the existing design and easy deployment of the XDe the entire project was completed in just over 1 week.
Their new site features a member forum, photo gallery, rotating banner photos, member classifieds, news, and events system with social media integration and all the standard PawPrint XDe core features.
Check them out at
http://www.smokensteelcarclub.com/
---